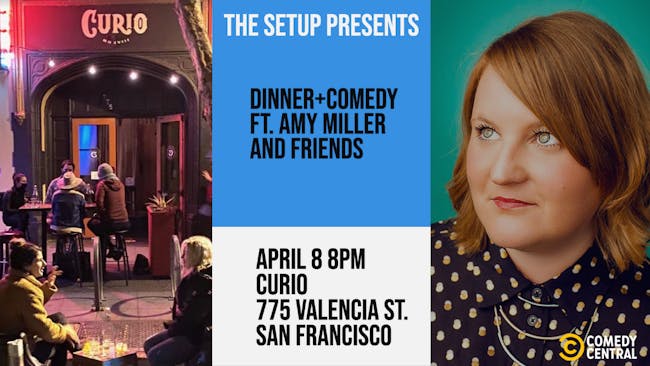 Comedy at Curio featuring Amy Miller & Friends - Dinner + Show
Tickets are sold via tables of 2 or 4. Ticket includes general admission to the show + a dinner credit.
Our staff is trained and experienced in all San Francisco Health Department regulations. The following guidelines will be in place for your health and safety:
Masks are required for entry.
The line for entry will allow for social distancing.
All members of your party must be present and waiting together in order to be seated.
Tables will be properly distanced.
Restrooms will be easily accessible and monitored for distancing and cleanliness.
There will be hand sanitizer stations throughout the concert area.
Please reach out to us if you have any questions

***********************************************************************************

Amy Miller was one of Comedy Central's "Up Next" comics for 2018, and was a breakout favorite in Season 9 of Last Comic Standing. Her Comedy Central Presents set has been viewed over 3 million times on Youtube and Facebook. She was also a featured comic on Viceland's Flophouse. On Last Comic Standing, Keenen Ivory Wayans said she had one of the "fiercest jokes he had ever heard." Originally from the East Bay, Amy found her comedy chops in Oakland and is still a regular at the SF Punch Line and Cobb's Comedy Club. Her material is personal, political, and 100% authentic. The Laugh Button says "She found a wildly creative way to find empowerment while simultaneously sparking laughter" and Courting Comedy says "Miller juxtaposes an unassuming demeanor with unflinching assurance." After a move to Portland in 2012, Amy quickly rose to the top of the Pacific Northwest comedy scene, winning Portland's Funniest in Helium's 2015 contest, as well as being voted Portland's Funniest Comedian for 2013 and 2015 in the Willamette Week. She was the first woman to win each position and the only one to win all three.

Amy's debut album Solid Gold is available on Kill Rock Stars, and was named one of the top 10 comedy albums of 2016 by the Interrobang. You may have also seen Amy on Viceland or heard her on Sirius XM, NPR, Doug Loves Movies, The Adam Carolla Show, The Bennington Show, Put Your Hands Together, All Fantasy Everything, Keith and the Girl, or her own podcast "Who's Your God?."

Amy is a nationally touring festival and comedy club headliner, and she has performed in the Bridgetown Comedy Festival, SxSW, the High Plains Comedy Fest, Laughing Skull, Big Sky, San Francisco Sketchfest, the Bumbershoot Festival and more.

Venue Information:
The Chapel - Outdoor Stage
777 Valencia St

San Francisco, CA, 94110