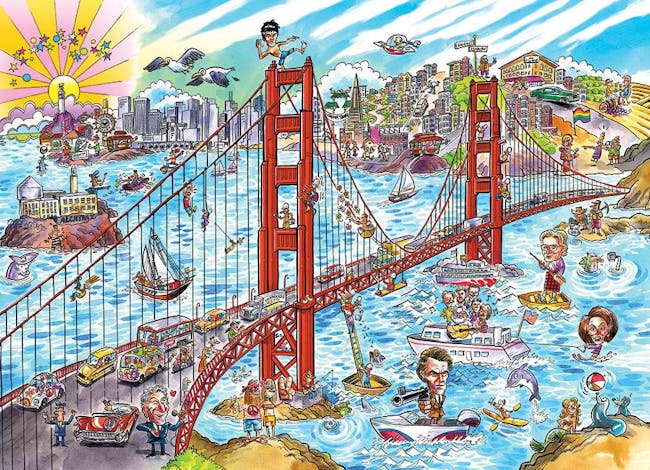 Manny's @ Curio - Dinner & Speaker Series
Is SF Becoming a Caricature of Itself? Heather Knight & Joe Eskenazi speak
$10.00 - $390.00
Sales Ended
Is SF becoming a caricature of itself? Heather Knight & Joe Eskenazi discuss
We're so excited to begin to bring back in-person civic events in this new series we're calling Manny's @ Curio dinner and a conversation series - The Future of San Francisco. We've got four evenings over the next months each addressing four aspects of the future life of our City: politics, art, work, and transportation.
On April 15th we are discussing politics. Learn more below:
The San Francisco School Board. Reopening and renaming our public schools. The Former VP of the Board accused of racism then suing her colleagues. The Attempt to Recall the DA. The FBI Investigation of Corruption. The Fight for the Ferris Wheel. Shelter in Place Hotels. A $100 Million Recology Payment. The last year has been filled with political drama that could have been pulled directly from a TV script.
Why all this drama? Where's it all coming from? What does it all mean about San Francisco now and how does it affect the way the rest of the world sees us? Does it matter?
We claim to be one of the most progressive cities in America but are we letting progressivism down by letting our infighting and ways of conducting business be lampooned far and wide? Is the criticism of us unfair or is it time for a real reflection on who we are? What does our path forward look like?
Two journalists who have written pieces on all of the above, Heather Knight from the SF Chronicle and Joe Eskanazi from the Mission Local, will be joining the Manny's stage at Curio Bar to discuss the question: are we becoming a caricature of ourselves?
Note: There are two ticket options for this event: The $65 option includes a three course dinner and is IN PERSON at Curio SF in their converted parking lot. The $10 option provides you a zoom link to use to tune in digitally from the comfort of your home.
About Heather and Joe:
Heather Knight is a columnist for the San Francisco Chronicle working out of City Hall and covering everything from politics to homelessness to family flight and the quirks of living in one of the most fascinating cities in the world. She believes in holding politicians accountable for their decisions or, often, lack thereof – and telling the stories of real people and their struggles.
Joe Eskanazi is an editor and columnist for Mission Local. Joe is a San Francisco native who has been published in a series of publications such as SF Weekly, San Francisco Magazine, Guardian, San Francisco Chronicle, SF Examiner, and much more. In 2019, Joe was awarded the Journalist of the Year by the Northern California Branch of the Society of Professional Journalists.
****************************************************************************
Tickets are sold via tables of 2, 4, or 6. Ticket includes general admission to the show + a prix fixe dinner.
Our staff is trained and experienced in all San Francisco Health Department regulations. The following guidelines will be in place for your health and safety:
Masks are required for entry.
The line for entry will allow for social distancing.
All members of your party must be present and waiting together in order to be seated.
Tables will be properly distanced.
Restrooms will be easily accessible and monitored for distancing and cleanliness.
There will be hand sanitizer stations throughout the concert area.
Please reach out to us if you have any questions

Venue Information:
The Chapel - Outdoor Stage
777 Valencia St

San Francisco, CA, 94110